Product Review: Titin Tech Weighted Compression System
I have been really excited to write this review, as I typically am for any product that I feel is a game changer. As a mountain trail runner in Salt Lake City, I have been on a quest for some time to find a tool that can help me add resistance and build running strength on the days when I can't hit the mountain climbs. I have tried weighted vests in the past, but they all fit awkwardly, bounce, chafe, and/or cause muscle strains due to how they unevenly distribute weight (especially the shoulders). Enter the Titin Weighted Compression system. Titin has gone back to the drawing board and come up with a completely different solution to this problem; a combination of weight training and compression. Let's take a look at it!
Product Overview
Titin Tech markets itself as the world's only weighted compression gear. It has gained a lot of momentum recently, making a successful appearance on Shark Tank and being adopted and endorsed by professional athletes and coaches across a number of sports and disciplines. Their main selling point is that the product keeps weight in place better than any other solution by using a combination of weight disbursement and compression. As a result of the overwhelming effectiveness of their product, they are able to claim measurable results, with those "using it during warm up achieving a 13% increase in vertical leap, 11% increase in endurance, and 3% increase in running speed." They seem to have a lot of supporters that back their product already, but I am a hands on guy that likes to see for himself. Let me share what I thought of the Titin system from an ultra runner's perspective.
In the Box
The Titin system comes with (3) main components as pictured below:
Anti-microbial pocket shirt
(14) weight gels
Outer compression shirt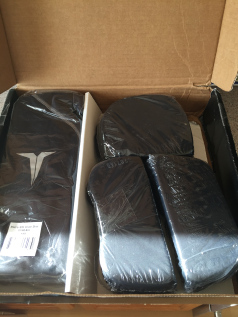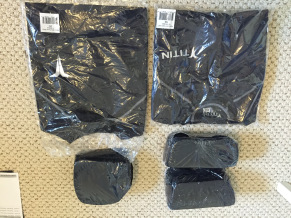 Price:
$249 for the whole system (includes one pocket shirt, one compression shirt, 14 gels)
$52.95 for an additional pocket shirt
$32.95 for an additional compression shirt
An important thing to keep in mind is that the gels come with a lifetime replacement warranty, which means that after the one time investment in these, you will no longer need to purchase them again.
Benefits and Uses
It is important that you don't oversimplify this product and thing of it just as a weighted vest because the flexibility of this product is unlike anything else on the market. It's versatility allows it to be used in a number of different ways with a number of different benefits. The truth is, while it is more expensive up front, you are getting much more utility and value out of the Titin system. In fact, I will go as far as to say that you will likely replace some of your other gear/equipment with this system. Let's look at some of the key benefits:
Due to its compression design, bounce normally experienced with fast movements is greatly reduced. This means that it is more friendly for use while running, doing speed work or circuit training, or even sports drills such as what you would find in basketball or football.
The even weight distribution means the weight is not putting a burden unevenly on parts of your body. With most weighted vests, a good deal of the weight rests on your shoulders. With the 14-point placement of the gels with the Titin system, you can ensure that all parts of your upper body are supporting the weight without any one area picking up the slack.
The gel system itself is an added benefit in that they can be both heated and cooled. This allows the vest not only to be used during weight training activities, but as a recovery tool as well.
Here are a few shots of me wearing it, both with and without the outer compression on.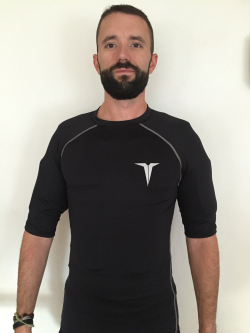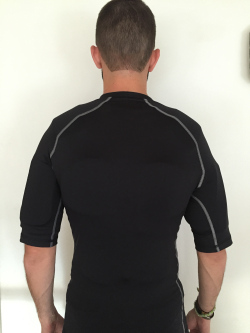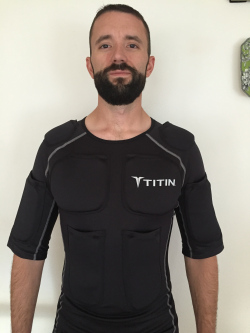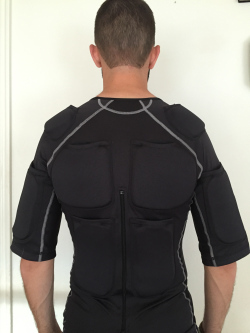 In Action
So all of the marketing and third-party impressions aside, none of that matters if it doesn't do the job when it counts! After years of disappointment in my own search to find something that that I could run in, I am not exaggerating when I say that I have built up some lofty performance expectations coming into this review. And while my focus for using this product is on how it performs while running, I also wanted to test it across a number of activities that I do that contribute to my running fitness, which I have included below.
Putting it on and General Care
This is about as simple as it gets. The gels come in two shapes which are designed to fit into certain pockets on the under shirt. It is pretty straight forward which ones go in each pocket and they are very easy to insert…I had them all in in less than two minutes. On the back (as seen in one of the pictures above), there is a half zipper that makes it easier to put on and take off. I also found it easy to reach the zipper without assistance thanks to a ribbon that is attached to it. As far as the zipper itself, it is unnoticeable while wearing, with no chafing or rubbing.
The gels can be heated in the microwave or cooled in the freezer for added heat or cold therapy. They don't freeze solid, so you don't have to worry about them forming into some weird, uncomfortable shape either. Once heated or cooled, you are good for about 45 minutes.
The pocketed undershirt is anti-microbial, which means you don't have to wash it after every use. After using it for a solid week, I smelled no odor. Still, I will probably wash it relatively frequently…every 1-3 weeks depending on frequency of use.
Now, here are my impressions when used for a number of different activities.
Running
For me, this was the most important test. With other weighted vests I have tried in the past, the biggest issue was bounce. I was constantly having to reposition the vest while running. This resulted in chafing and an overall unpleasant/unpeaceful running experience. Most vests are often bulky too, making it difficult to wear my hydration pack. Lastly, with most previous weight vests, when I take it off I generally feel stiff and can tell that the weight was straining my muscles in bad ways. This are all of the things I was looking to asses.
With the Titin vest, all of these problems disappeared. With the outer compression shirt, the weight stayed snug and in place without impacting my running motion. The gels are distributed and positioned in a way that they don't restrict movement in the arms and torso. I experienced almost zero bounce with Titin. Because the weights are broken up into small packages, it is easier to used the compression to hold them in place while getting the collective benefit of the total 8lbs at the same time. I ran multiple times up to an hour in it during my tests (which mimics my intended use), and experienced no chafing or weird rubbing. The 8 lbs of weight is the perfect amount for offering some resistance training while not overdoing it (general recommendations is no more than 5-10% of your body weight). When I took it off after my run, aside from fatigue from the added weight, I had no immediate soreness or stiffness in my upper body, which held true the day after as well. Lastly, as you can see from the picture below, it is not nearly as bulky, which allowed me to wear my Orange Mud hydration pack normally and without any awkwardness. In short, I have finally found the perfect resistance training solution for running.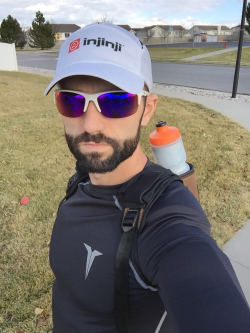 Circuit Training (Using Insanity T25 – Total Body Circuit)
While running certainly provided a good test of how the Titin system would perform under movement, I still wanted to test it with a bit more of an explosive workout. I am happy to say that it performed equally as well with the quick, jerky movements found in circuit training workouts. Additionally, the added weight made the workout quite a bit more more challenging, but in a good way.
Yoga/Body Weight Exercising
My test here was focused less on fast movements and more about how it performed in strength training routines and other programs that incorporate different body positioning. I was most interested in how it would feel while in inverted positions, such as downward dog in yoga. I am happy to say that it performed great in these scenarios quite well too. In downward dog position, there was only some minor shifting, but no issues with the weights sliding into my neck or out of position.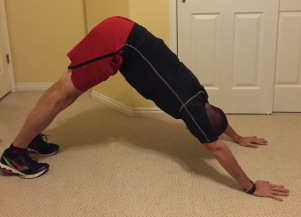 My Final Thoughts
Pros
This system, while not necessarily designed for runners, suits the purpose extremely well with no bounce, chafing, or discomfort while running or cross training.
The weight is distributed extremely well as to not cause any unnecessary muscle strain. The 8 lbs. is also the right amount of weight to provide benefit without increasing the risk of injury.
The system is multi-purpose, serving the job of both weight and resistance training as well as hot or cold therapeutic recovery.
The gels come with a lifetime warranty requiring you to only buy them once. This way, you only need to buy additional shirts as needed.
Can use your own outer compression tops that you already own.
Cons
The price will likely turn some away, which is a shame because I believe the value far surpasses the price tag. Even so, a slightly lower price point may encourage people to jump on board.
One design change I would make is to have the zipper on the back open up just a bit higher. While it was super easy to put on, it was a bit difficult to take off once I was a little sweaty.
Addiction — I am not going to want to stop using it. 🙂
Conclusion
While the upfront investment can be eye-catching, what you get in return with the whole system returns much more value to you considering the multiple uses and the overall training benefit. This product is truly a game changer that I believe finally gives runners a product that they can use to improve their performance and recover successfully afterwards.
If you like this post and would like to stay up to date when future gear reviews, race reports, and other related posts are released, please follow my Facebook page at Ultrarunner Joe!